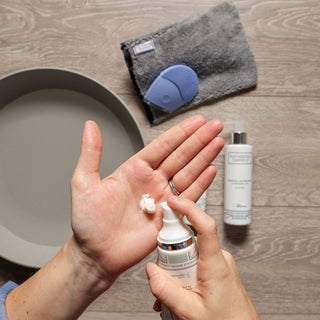 Why we've made this product for you...
Sensitive Skin Rich Cream is a cocooning, comforting texture for your dry sensitive skin. It immediately soothes the surface of your skin and transforms your skin which is red or high in colour to a more even and calm appearance. Thanks to its rich salon strength formulation it delivers nourishing and hydrating ingredients to your skin. It leaves your skin soft and supple.

Our advanced scientific ingredients are delivered into the deeper layers of your skin to bring strength and resilience. Your skin will be better equipped to defend itself against aggressors.
When your skin's barrier becomes damaged or weakened pollution and irritants can enter your skin. Precious moisture is lost, causing dehydration. This leads to the loss of your skin oils. If you're prone to skin dryness the problem may become worse.
In the beginning sensitive skin may appear as slight flushing in response to external factors, changes of temperature, touch or products. 
In the later stages and a more severe form it may flush more deeply in response to caffeine, alcohol, spicy food and hormonal changes. This causes burning and stinging sensations. Your flushing may take a longer time to reduce. .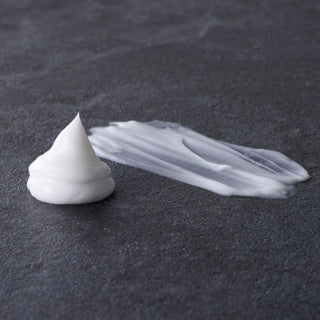 Why you'll love this product...
Sensitive Skin Rich Cream is a comforting texture. It cocoons your fragile sensitive skin bringing an immediate calming sensation. 
It will immediately soothe the surface of your dry sensitive skin thanks to the hyper effective formulation. It will help to reduce the signs of skin sensitivity: pain, swelling, itching, redness and heat.

With regular use your skin will be restored. It will be more able to defend itself and more able to act more youthfully.
What makes Sensitive Skin Rich Cream so good?
Let's look at how it works...
Our Neuro Soothing Cosmetic.
Investigates the relationship between your nervous system and your skin. Your nervous system signals your skin to respond or react to stimulus. It does this by a skin messaging service. It instructs the release of the aggressive messenger. It's this that creates your skin reaction: pain, swelling, itching, redness and heat. To reduce this aggressive message we must change the signal and the messages to messages that tell your skin to be calm and act like an anti-inflammatory. By using this ingredient, over time your skin learns to react less and respond well. It becomes stronger and more resilient to stimulus.
Laminara Digatata.
This seaweed extract will heal, calm, soothe and regenerate your fragile skin making it more resilient to stimuli.
Phytosqualane and Triglycerides.
This peptide complex accelerates the rejuvenation of your skin cells. It too rewinds the clock and encourages your skin to regenerate as it did 11 years ago. It repairs the DNA of your cells after exposure to pollution, UV and blue light radiation. Helping to protect your skin from the formation of dark pigmentation marks and reduce existing marks. 
Tocopherol Acetate, Vitamin E.
Another antioxidant to prevent UV damage and slow sun related skin ageing.
There's no parabens, mineral oils, sodium laurel sulphate or phthalates. Nothing suspicious to see here! It's also not tested on animals.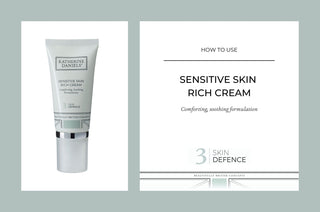 How to use your Sensitive Skin Rich Cream
Apply 2-3 pumps onto your fingertips and massage into your face, neck and décolleté in upward movements, avoiding your eye area.
For ultimate results use after your Katherine Daniels Step 2 – Skin Boost.
Watch our application tutorial for more help.

One more thing...
If you're suffering with advanced stages of skin redness you should read about our lightweight formulation Sensitive Skin Cream instead of this richer cream.

This inflammatory skin condition often appears as a butterfly shape from the middle of your forehead, across your cheeks, nose and chin. You may suffer from persistent redness and visible blood capillaries. Your skin will be sensitive, reactive, with pimples throughout the redness. In more severe case you may see a thickening of your skin, especially around your nose. The redness may then get deeper and look purple in colour.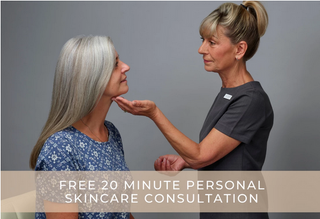 Not sure if this product is right for you?
Why not book a complimentary appointment at our Virtual Skin Bar and get advice from one of our Skincare Experts. Who will prescribe the correct products, along with an achievable regime to give you the results that
you want. No more guessing, no more half-used products.
All you need is 20 minutes and access to a computer or smart phone.