The provenance of 'Better Life For Our Planet'
Here at Katherine Daniels we openly promote 'Better Skin for Life'. It's our strapline, but at what cost to our planet?
Since the launch of our brand in 2013 we have chosen to work with suppliers who can provide us with recyclable packaging, but at what cost to our skin?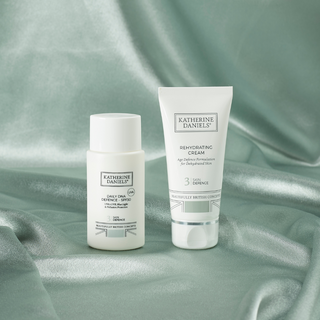 Our product packaging goes through stringent stability and compatibility tests. This is to be sure each ingredient is stable in the product formulation, keeping it fresh and free from bacteria once it arrives home with you and for the duration of its life.
Our packaging must be up to the job to keep our promise of not taking risks and delivering real results for your skin.
We want the best for your skin. We want the best for our planet.
Our bottles tubes and product cartons are all recyclable. In fact the majority of our packaging components are disposable in an environmentally friendly way.
We're constantly striving to find the best sustainable way to package our products while
giving you the highest quality, most effective skincare.
Shipping our products to your door
Our warehouse, where possible, use shipping materials which are recycled and/or recyclable.
Our product cartons all carry the FSC logo
The FSC (Forestry Stewardship Council) demonstrates our commitment to responsible sourcing.
It identifies responsibly sourced forest products, it's the worlds most trusted sustainable forest management solution and it's our continued commitment to environmental responsibility.
Our cartons are made from cardboard which comes from responsibly managed forests with zero deforestation.
Keeping your products pristine
You'll see our products are wrapped in film. This protects the packaging ensuring it arrives with no marks, no flaws, nothing less than you deserve.
Since the start of 2021 we began the move to a compostable /recyclable film, Natureflex. By the end of 2022 all our products will be wrapped in Natureflex. We now pledge to only buy this film.
Here's a summary of our packaging and how to dispose of it in the kindest way to our planet:
Parts of packaging
Product bottle
Product tube
Glass bottle
Product carton
Clear film
Tissue wrap
White loose fill
Postal box
Pump or pipette from bottle
What's it made of
High density polyethylene
High & low density polyethylene
Recyclable glass
FSC certified board
Natureflex*
Acetate free tissue paper
Corn starch*
Recyclable board
Not yet recyclable
Where it goes
Plastic recycling bin
Plastic recycling bin
Glass recycling bin
Paper recycling bin
Food waste bin
Paper recycling bin
Food waste bin
Paper recycling bin
We're working on this!