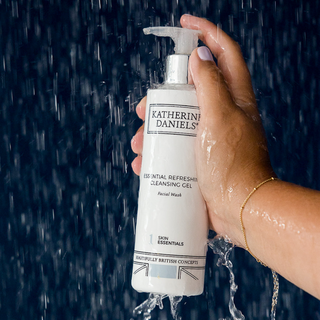 Why we've made this product for you...
Cleansing your skin is a crucial step in your skincare regime. It's pointless moisturising over dirt and pollution from the day, perspiration and skin oil, even make-up residue.
We want you to have a luxurious cleansing ritual. Which is quick and simple. It's a concentrated formula a little goes a long way.

We know that it's nice to wash a cleanser off your skin - one that leaves your skin squeaky clean, with a matte finish.
Why you'll love this product...
It's suitable for you and your whole family, for teenagers and men to shave with thanks to the gentle lather from Soap Bark Extract, which forms when mixed with water.

A little goes a long way thanks to our concentrated formula. Which is just as well if you're sharing with your family!

This product packs a skin cleansing punch leaving your skin squeaky clean. It respects your skin's defence barrier to keep the good 'stuff' in and the bad 'stuff' out.
What makes Essential Refreshing Cleansing Gel so good?
Let's look at how it works...
Soap Bark Extract.
This natural lathering agent gives you the foaming action of a facial wash without the skin drying effects of traditional foaming ingredients.
Aloe Vera.
One of the wonders of mother nature. This desert plant is soothing, hydrating, anti-inflammatory, anti-viral and anti-ageing.
There's no added fragrance, parabens, mineral oils, sodium laurel sulphate or phthalates. Nothing suspicious to see here! It's also not tested on animals.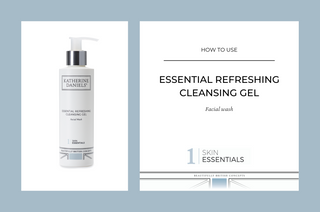 How to use your Essential Refreshing Cleansing Gel
Apply up to one pump to your dampened face, neck and décoletté, avoiding your eye area. Gently massage to form a lather and remove thoroughly with a damp Katherine Daniels Micro Cloth.

Repeat for a second time to complete your skin cleansing ritual.

Follow with your Katherine Daniels Skin Boost and Skin Defence.
Watch our application tutorial for more help.

One more thing...
For quickest removal and for best skin cleansing results use our Micro Cloths with your Refreshing Cleansing Gel. We don't recommend you use this product around your eyes.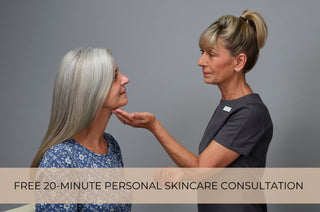 Not sure if this product is right for you?
Why not book a complimentary appointment at our Virtual Skin Bar and get advice from one of our Skincare Experts. Who will prescribe the correct products, along with an achievable regime to give you the results that
you want. No more guessing, no more half-used products.
All you need is 20 minutes and access to a computer or smart phone.