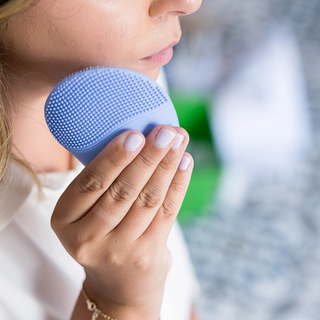 Why we've made this product for you...
Cleansing your skin is a crucial step in your skincare regime. It's pointless moisturising over dirt and pollution from the day, perspiration and skin oil, even make-up residue.

Don't cleanse your skin half-heartedly. Once you've chosen your perfect Katherine Daniels cleansing product you can up your cleansing game with the introduction of our dual action Deep Cleansing & Skin Rejuvenating System - as its name suggest it has more than one use.

The front side of the device is used for deep cleansing your skin. It's help to move lymph, this will support the removal of toxins within your cells and to flush away underlying skin congestion. This doesn't mean that it's only good for spotty skin. There's lot of other skin boosting, youth enhancing benefits to have. You can work on the puffy zones of your face, around your eyes and along your jaw line.

The back of the device will allow you to create a lifting, firming massage to help you strengthen the contours of your skin. With regular use it will help to lift your brows and your neck, as well as giving structure back to your sagging jaw line. Some days your skin looks a little 'meh.' You'll benefit from this device to bring radiance to your skin. It's a quick-fix glow giver by stimulating oxygenated blood to the surface of your skin.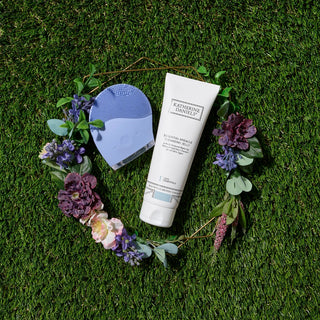 Why you'll love this product...
It brings you a supreme cleansing experience along with deep skin penetration abilities for your Step 2 - Skin Boost and Step 3 – Skin Defence. Like having a pair of expert hands with you to keep your skin clear, radiant and feeling as soft as it does after a salon facial.

It helps to keep your neck, jawline and eyebrows lifted and youthful. It helps to sculpt your cheeks and it even helps to keep puffiness around your eyes to a minimum.

It's easy to use every day or just when your skin needs a helping hand to look velvety smooth, soft and glow with good health. We use the Deep Cleansing & Skin Rejuvenating Systems in our professional facial treatments. For all of the reasons we've mentioned.
What makes the Deep Cleansing & Skin Rejuvenating System so good?
Let's look at how it works...
Combining ultra-high frequency vibrations with 1500 soft silicone massage points. There's 15 different speed settings.
This device is gentle on your skin but literally loosens dirt from within your skin which is carried away within your cleansing product. It's more than cleansing the surface of your skin. By stimulating your lymph toxins are removed from within your skin. The lifting and firming action brings a physical effectiveness to your skincare regime.
It's great for you and all your family.
It's easy to clean and care for.
The device will last you many years if you look after it well.
With 2 hours charge available take it with you on weekends away or on holiday.
Once you've experienced the supreme cleansing effects of your device you won't be without it.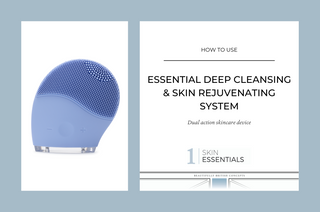 How to use your Deep Cleansing & Skin Rejuvenating System
For best results from this device you should double cleanse your skin. Firstly remove your make-up and secondly deep cleanse your skin using this device. For each cleanse use your favourite Katherine Daniels cleansing product.

Skin cleansing: Let the device glide over your skin, apply no pressure. The front of the device is for cleansing.

Skin rejuvenating: The back of the device is for a firming rejuvenating skin massage. Apply gentle pressure and use in conjunction with your favourite Katherine Daniels Step 2 – Skin Boost or Step 3 – Skin Defence products.
Watch our application tutorial for more help.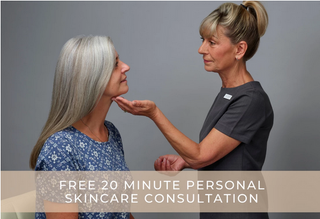 Not sure if this product is right for you?
Why not book a complimentary appointment at our Virtual Skin Bar and get advice from one of our Skincare Experts. Who will prescribe the correct products, along with an achievable regime to give you the results that
you want. No more guessing, no more half-used products.
All you need is 20 minutes and access to a computer or smart phone.