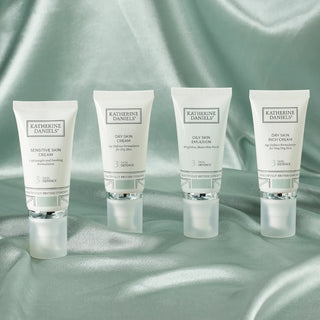 Why we've made this product for you...
Dry skin lacks oil, it's your genetic skin type. Over time the functions of your skin become slower, this includes the amount of oil your skin produces.

Without enough oil your skin will feel tight and uncomfortable. It may become flaky in areas or become red and be more sensitive than usual, this is because of the lack of natural protection.

If your skin is genetically dry. Sometimes your skin may feel more dry than usual. This often happens with extreme weather conditions, especially the wind and cold or with hormonal changes. Your dry skin may become drier than usual once you reach your 50's.

Milia may be seen anywhere on the skin but more commonly around your eye area. Milia look like pearls sitting under your skin's surface, they're a characteristic of your dry skin. You can effectively treat milia but prevention is better than cure.
But what happens inside your skin? The things that you can't see?

Your skin's function will be affected, nothing works as it should. There's a slowdown in the production of youth proteins, collagen, elastin and hyaluronic acid. Energy levels within your cells are lower, this has a knock-on effect on the communication channels between your cells which has a further effect on oil production.

Without careful treatment uncared for dry skin will become dryer, it loses density and ages quickly. We correct the deficiencies of a dry skin whilst working on the youth and vitality of your skin.

Failing to care and correct your dry skin may lead to sensitivity and sometimes to rosacea later in life.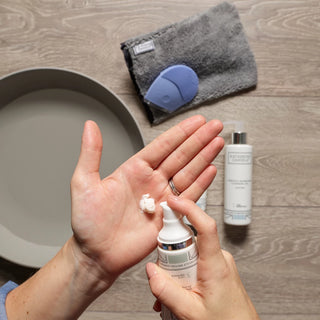 Why you'll love this product...
It's ultra-nourishing but not heavy, thick or greasy. It melts into your dry skin, immediately making it feel smooth and comfortable. Delivering new ingredients which enhance firmness and radiance. Your skin will glow with energy from the first application.

Thanks to the advanced formulation of this treatment cream it delivers everything nutritionally, as well as stimulating your skin's functions. The ability to care for itself will improve, encouraging your skin to work with the ingredients. It recognises them and knows how to respond to them.

Your skin's natural oil production is ignited, relieving your skin of the tight feeling associated with skin dryness, helping to disperse milia and preventing them from appearing so frequently.

With renewed energy levels cellular communication will improve. Encouraging your collagen, elastin and youth proteins to be produced. Your skin is encouraged to work effectively for itself.
What makes Dry Skin Rich Cream so good?
Our aim is to get your skin functioning well on the inside to give you beautiful, comfortable skin. It will prevent your dry skin from becoming sensitive. Let's look at how it works…
On the surface
Nourishing and Hydrating Oils and Butters. Immediately restore comfort and softness to your skin.

Rice Peptides. Rebuild your skin barrier for its strength and protection.

Rebuilding your damaged skin barrier is paramount to keeping the good stuff in and the bad stuff out (notoriously, dry skin has a damaged barrier).
LipThe mid layers
Seaweed extracts. Anti-oxidants, trace elements, minerals, fatty and amino acids re-energise and boost the overall function of your skin. Bringing renewed radiance, a beautiful glow.
The base layer
Our Marine Complex and Signal Peptides work in synergy to boost the production of your skin's youth proteins, collagen and elastin. They stimulate regeneration and cell metabolism. They help your skin become firmer and stronger.
There's no parabens, mineral oils, sodium laurel sulphate or phthalates. Nothing suspicious to see here! It's also not tested on animals.

One more thing...
We've already mentioned that over time an uncared for dry skin will become dryer. Eventually your skin will find a way to protect itself by forming a 'crust'. You can't usually see this but you can feel it, it feels like sandpaper. It stops precious oil from being lost from your skin, it's your skin's way of protecting itself. The problem is the 'crust' also stops our ingredients getting into your skin and being able to treat and correct your dryness.

Exfoliation is a must to reduce and finally remove the crust, we recommend the Essential Exfoliating Gel. Once your skin is treated regularly with the correct ingredients it won't need to protect itself in this way, it stops self-protecting. Your skin is soft, supple and your products are most effective.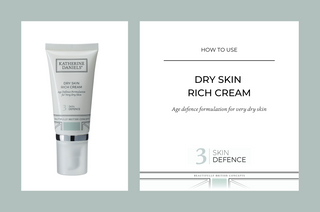 How to use your Dry Skin Rich Cream
Apply 2-3 pumps onto your fingertips and massage into your face, neck and décolleté in upward movements, avoiding your eye area.

For ultimate results use after your Katherine Daniels Step 2 – Skin Boost.
Watch our application tutorial for more help.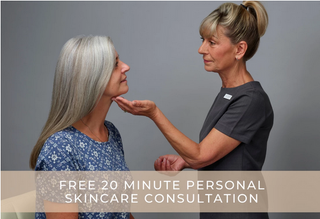 Not sure if this product is right for you?
Why not book a complimentary appointment at our Virtual Skin Bar and get advice from one of our Skincare Experts. Who will prescribe the correct products, along with an achievable regime to give you the results that
you want. No more guessing, no more half-used products.
All you need is 20 minutes and access to a computer or smart phone.