Why we've made this product for you...
Over time the functions of your skin become slower, and the essential communication between your cells becomes slower too. This means your cells produce less energy. With less energy your skin makes less collagen, elastin and other essential proteins.

This leads to a loss of skin density, meaning a loss of skin firmness, the formation of lines and the oil levels in your skin decreasing. This makes your skin feel drier than it used to. This disruption in your skin's barrier often leads to a degree of dehydration (lack of water).

These are usual signs of skin ageing. Help is on hand thanks to this hyper effective concentrate. It delivers outstanding results on every sign of skin ageing, ensuring you look fabulous for your age.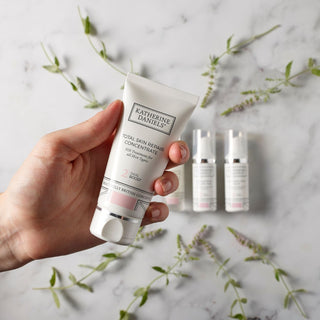 Why you'll love this product...
It's a high-performance SOS treatment suitable for all skin types. Our lightweight gel will become your skin hero. Our salon strength concentrate ignites the youth mechanisms of your skin. It's a high performance, potent cocktail of ingredients.

Over time your skin will recognise these ingredients and know what to do with them. Transforming the way your skin works on the inside, and how it looks on the outside. As the functions of your skin are activated, you will see a marked improvement on the signs of skin ageing, e.g lines and thinning skin. It will self-regulate the formation of dark pigmentation patches - caused by pollution, UV and blue light radiation. As your skin functions increase you'll see existing marks lighten naturally.
The texture is light but you'll feel it working on your skin. A gorgeous glow giver that tingles as it absorbs, which awakens and energises your skin. This sensation will be more on an exfoliated skin and on sensitive skins. This product is the ultimate concentrate that packs a powerful punch on all signs of skin ageing:

Lines & wrinkles
Pigmentation
Increasing skin density & skin firmness
Brightening & energising
Repairing scar tissue (which is perfect for skin healing & for acne scarring)
Calming, skin strengthening & soothing
What makes Total Skin Repair Concentrate so good?
Our aim is to get your skin to act as it did when you were younger. Think of it as turning the clock back and making your cells behave as they used to. We use advanced scientific ingredients. Let's look at how it works...
Linefactor C ™
Rich in Vitamin C from the hibiscus flower. It encourages your skin to produce collagen, elastin, hyaluronic acid and other youth proteins. In similar quantities as it did 10 years ago. So, if you're 50 years old your youth proteins will be active as they were in your early 40's. The result is an increase in total skin function. Improving the elasticity, density and texture. This will promote scar tissue healing.
Juveleven ™
This peptide complex accelerates the rejuvenation of your skin cells. It too rewinds the clock and encourages your skin to regenerate as it did 11 years ago. It repairs the DNA of your cells after exposure to pollution, UV and blue light radiation. Helping to protect your skin from the formation of dark pigmentation marks and reduce existing marks. 
Lipochroman 6
A powerful antioxidant. It detoxifies your cells, after exposure to pollution, UV & blue light and prevents cell DNA damage.
Skinasensyl.
To soothe and calm your skin. It increases your skin tolerance threshold. Which allows sensitive skin to benefit from the advanced science and our high-performance ingredients.
There's no parabens, mineral oils, sodium laurel sulphate or phthalates. Nothing suspicious to see here! It's also not tested on animals.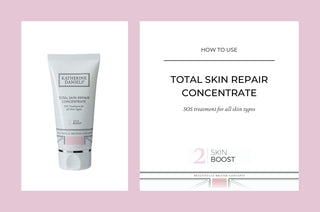 How to use your Total Skin Repair Concentrate
Massage into your face, neck and décolleté, (including your eye area and lips) in upward movements until fully absorbed. For ultimate results follow with your Katherine Daniels Step 3 – Skin Defence.
Watch our application tutorial for more help.