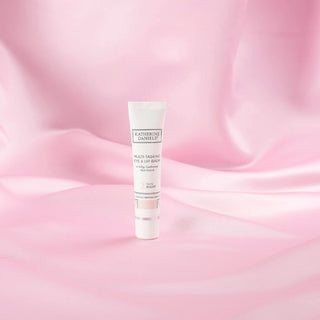 Why we've made this product for you...
One of the first signs of skin ageing appears around your eyes. Your eye area has less oil glands and the skin around your eyes is thinner than the rest of your face. As time passes thinning skin and a drop in oil levels presents as signs of skin ageing.

As for the laughing, smiling, rubbing, crying, squinting and sleeping on your side - it's your eyes that takes the brunt of it.

We've made you an eye product that helps you feel confident and look fabulous for your age. With some serious line lessening complexes. To give your eyes a smoother, more lifted look. And if you need it - fake a full 8 hours rest.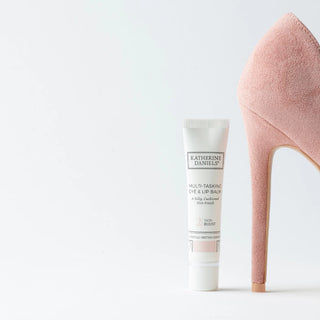 Why you'll love this product...
Our Multi-Tasking Eye & Lip Balm lives up to its name. It works on the 5 signs of ageing around your eyes:

Lines
Wrinkles
Puffiness
Dark circles
Eyelid droop
We've chosen our ingredients to treat these 5 signs. Being the skincare boffins that we are, we realised that our multi-tasking product would work on the lines around your lips too! Those pesky lines that plague many of us after 40. The lines that attract your lipstick like a moth to a flame!

This product has a different texture to other eye creams you've used - it's fine and silky but quite a 'stiff' texture (just as we intended). We want you to take your time with it. Massage the product into your skin, this way it does more and works faster. You'll thank us for it!

We haven't added any fragrance to our Multi-Tasking Eye & Lip Balm. We know that it's often the fragrance in eye creams that make your eyes stream. And as we're all about helping you look and feel fabulous - streaming, puffy eyes are not on our agenda!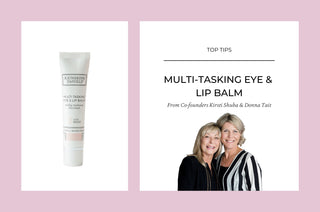 Top Tips of our Multi-Tasking Eye & Lip Balm
Featured in our recent online facial masterclass, Katherine Daniels Co-founders Kirsti Shuba & Donna Tait demonstrate the Multi-Tasking Eye & Lip Balm in action.
What makes Multi-Tasking Eye & Lip Balm so good?
The perfect texture with carefully chosen ingredients will give you visible results. Let's look at how it works...
Evodia Rutaecarpa Extract.
The anti-inflammatory action helps reduce puffiness. If you're prone to puffiness it's often worse in the morning. This ingredient helps to drain the trapped fluid (the puff), as does your massage during application. This ingredient works on dark circles too.
As your skin thins with age you'll notice a more purple hue to your under eyes. This is stagnant oxygenated and unoxygenated blood which pools in this area and looks purple. By keeping good function in your skin with a combination of ingredients and massage, this will help to keep your under eyes looking bright.
Persian Silk Tree Extract.
Will lift drooping eye lids by over 70% with a powerful skin densifying effect. Stimulating the production of your own collagen, elastin and hyaluronic acid - this will help to reduce wrinkles or crow's feet. A powerful wrinkle reduction of 38%.
Skinasensyl.
To soothe and calm your skin. It increases your skin tolerance threshold to allow sensitive skin to benefit from the advanced science and our high-performance ingredients.
There's no added fragrance, parabens, mineral oils, sodium laurel sulphate or phthalates. Nothing suspicious to see here! It's also not tested on animals.

This salon strength melt-in balm brings a soft, smooth finish to your delicate eye and lip area. A fine, silky texture cushions with no greasy finish. Key ingredients bring radiance, lift your eye lids and work against puffiness, dark circles, fine lines and wrinkles.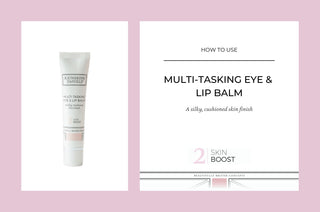 How to use your Multi-Tasking Eye & Lip Balm
You'll need enough product for each eye and then the same again for your lip line (imagine a grain of rice for each, that's the perfect amount).
Dot the product under your eyes, around the side and beneath your brows. Now do the same along your lip line, then massage with small circles. Use your 4th (ring finger) to avoid too much pressure. Keep on massaging and lift your brows with your upper eye massage. Keep going until the product is massaged into your skin. Now repeat along your lip line.

Forget what you know about dotting and pressing your eye product into your skin. We need more than this to give you the results you deserve. Remember to cover the lines under and over your eyes. An eye product is for your eyes, not for the top of your cheek bone and above your brows.
Watch our application tutorial for more help.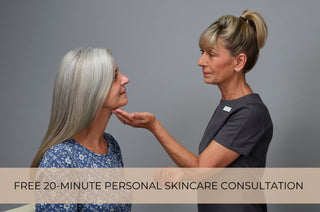 Not sure if this product is right for you?
Why not book a complimentary appointment at our Virtual Skin Bar and get advice from one of our Skincare Experts. Who will prescribe the correct products, along with an achievable regime to give you the results that
you want. No more guessing, no more half-used products.
All you need is 20 minutes and access to a computer or smart phone.