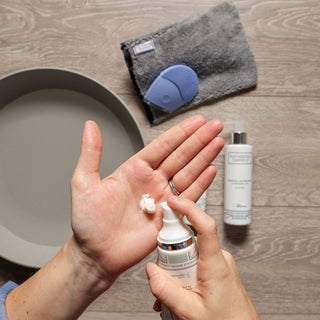 Why we've made this product for you...
Oily skin is a genetic skin type. Your skin overproduces its natural oily lubricant, sebum, the oil sits on your skin's surface. With its high alkaline Ph it's a breeding ground for bacteria on and within your skin. This may lead to the formation of more spots than usual.  
Sebum has a waxy texture it may form a blockage in your hair follicles, leading to blackheads and spots.
If you have an oily skin you may shy away from a moisturiser or treatment cream. Please think again, your skin is left vulnerable and unprotected from dirt, pollution, and makeup. All of these can get into the upper layers of your skin, blocking and causing more spots. 
Our Oily Skin Emulsion is a weightless emulsion to leave your skin completely matte, but very much protected from outside aggressors, dirt and pollution particles.
A man-made problem skin is exactly as it sounds. It's a problem that has been created, usually from lack of proper care and using the incorrect or harsh ingredients. Read our 'One more thing' section to find out more.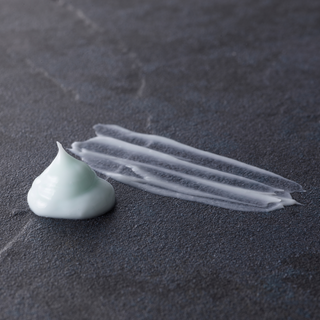 Why you'll love this product...
It's a weightless emulsion to leave your skin completely matte. Protected from outside aggressors, dirt and pollution particles it reduces excess sebum production by 91% without harsh, skin stripping ingredients.
It's a kind and gentle alternative to many products made for oily skin. It also helps to reduce open pores making your skin look smoother. It's skin healing ingredients help to restore and repair damaged skin, which is often the result of spots.  
What makes Oily Skin Emulsion so good?
Let's look at how it works...
Enantia Chlorantha Bark Extract.
Reduces excess sebum production and the great news is it does this considerably, over 90% reduction but not in a stripping way. Helping your skin to function more effectively.
Witch Hazel Extract.
Has an astringent effect to help reduce your open pores. To mattify and heal your skin.
Mattifying powders.
These do as the name suggests to reduce the amount of shine seen of your skin throughout the day.  
Mastercarpus Extract.
A skin hydrating seaweed extract. It has skin soothing properties too. Ideal if your oily skin is inflamed and red because of the previous use of harsh products.   
There's no parabens, mineral oils, sodium laurel sulphate or phthalates. Nothing suspicious to see here! It's also not tested on animals.

One more thing...
Our Oily Skin Emulsion is made for you if you have oily skin. A true oily skin is very different to a 'manmade' problem skin. A man-made problem skin is a spotty skin, it's dehydrated and the escaping moisture is often confused with escaping oil. Don't use harsh or stripping products, your skin responds to these ingredients by producing more oil.

This cycle will continue until your skin doesn't know how to behave. It will become spotty with open pores, congestion, blackheads and often it will be red and angry.
How to use your Oily Skin Emulsion
Apply 2-3 pumps onto your fingertips and massage into your face, neck and décolleté in upward movements, avoiding your eye area.
For ultimate results use after your Katherine Daniels Step 2 – Skin Boost.
Watch our application tutorial for more help.