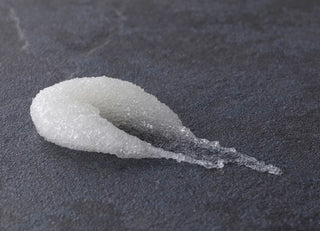 Why we've made this product for you...
A serious skin hero. A cocktail of sea salts from around the world bound in the perfect amount of essential oils to exfoliate your body. Eliminating dry dull skin cells to reveal the new the healthy cells and a velvety soft feeling skin.

Dead skin cells not only dull your skin's surface they absorb your moisturisers meaning you use more than you need. But moisturise your regularly exfoliated skin, you will eliminate dull, flaky dry areas with our gorgeous 'glow giver.'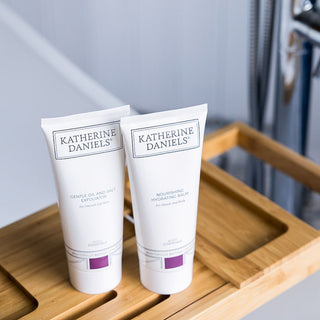 Why you'll love this product....
Our cocktail of Sea Salts are 3 different size crystals. The largest exfoliating your skin most superficially the smallest giving you a supreme, deep-down exfoliation. They're rich in skin perfecting trace elements and minerals.

Our essential oils have been selected for their amazing fragrance as well as their ability to nurture, calm and relax your skin. Simply shower or bathe off the salt crystals and the essential oils will continue to work their magic long after you've used the product.

We've cleverly crafted the perfect amount of oil and salt to avoid separation of the 2 ingredients. You'll have no mixing squeeze it straight out of the tube and 'get your glow on'.
What makes Gentle Oil & Salt Exfoliator so good?
Let's look at how it works…. 
Sea Salts
From the Himalayas, Egypt and France. Rich in skin perfecting trace elements and minerals to bring a skin exfoliating experience from the most superficial, through to the deepest level. There's no scratching or irritation, just beautiful soft, glowing skin.
Essential Oils
These include Lavindin, Petitgrain, Cypress, Geranium, Rosemary and Chamomile. The first thing you'll love is the fragrance. Then you'll appreciate the skin calming and relaxing properties of our essential oil blend.
Glycerine
A skin humectant. Taking the moisture from your bath or shower and trapping it into the upper layers of your skin to help take dull dehydrated skin back from the brink.
There's no parabens, mineral oils, sodium laurel sulphate or phthalates. Nothing suspicious to see here! It's also not tested on animals.
One more thing...
If you want to create an at home spa experience, use your Gentle Oil & Salt Exfoliator as instructed. Then slip into a warm bath and soak for 10-15 minutes. As the salt dissolves your skin will be enveloped in your own trace element and mineral rich spa bath. Enjoy!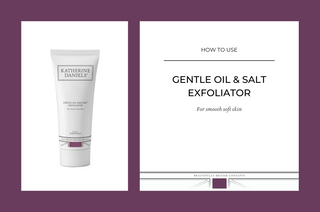 How to use your Gentle Oil & Salt Exfoliator
While standing on a towel/mat, apply a generous amount to the areas of your body you wish to exfoliate. Vigorously massage, concentrating on dry areas, knees, elbows etc. Rinse thoroughly in the shower. Do not remove oils with soap or gels.

For ultimate results, follow with your favourite Katherine Daniels body cream.
Watch our application tutorial for more help.