Skin Cleansing Top Tips
Brought to you by our Co-founders Kirsti Shuba & Donna Tait. Their careers as facialists and skincare experts span more than 70 years. There's not a lot they don't know about skin or skincare. In fact, it's fair to say, they're fully fledged skincare geeks.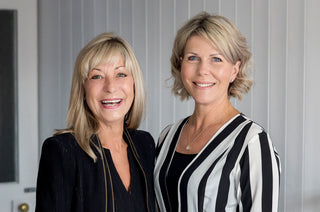 Let's get going...
Let's get real. Your best skin starts with a proper and consistent cleansing routine. You must properly cleanse your skin morning and evening. Whatever you put on your skin must come off. This includes make-up at the end of the day/evening. And skincare products in the morning and evening. 
The following accessories are a must have to help you achieve your best skin:
A mirror
A headband or hair scrunchie to help keep your hair off of your face
A soft face cloth (or better still our Micro Cloths, made of the softest fluffiest microfibre)
1.
Use a soft cloth to remove the cleanser from your skin (excludes Essential Micellar Face & Eye Make-up Remover, which is used on cotton pads). Using a soft cloth is 4 x more effective than splashing your skin with water to remove the cleanser. It's more effective and less messy.
2.
Never remove your cleanser in the shower by holding your face under the shower head. This is like red hot needles hitting your face. It's likely to result in sensitivity and damaged blood capillaries.
3.
Use your cleanser in all areas that you apply your make-up. Into your hairline and towards the back of your ears, and your chin and nose grooves. Remember what goes on must come off!
4.
Long-wear and ultra-wear make-up is made to stay 'all day'. It's sweat resistant, water resistant. You'll need to work this make-up off your skin thoroughly. Our Essential Miracle Cleansing Jelly is perfect for the job!
5.
Include your neck and décolleté in your skincare routine. Think of these areas as your face. They're often neglected but exposure to the elements mean these areas will age prematurely without care. Remember to protect your cleansed neck and décolleté with cream and SPF. The skin on the back of your neck supports the skin on the front of your neck. Take care of it, cleanse and protect. 
6.
Double cleansing is a must do.
Your first cleanse removes make-up and/or dirt and pollution.
Your second cleanse cleans your skin.
Long-wear and double wear make-up may take a third cleanse to thoroughly remove it.
7.
Cleansing at night? Oh yes! To remove make-up, dirt, oil, bacterial and pollution particles. To prepare your skin for your skincare's active ingredients. A double cleanse is a must!
8.
Cleansing your skin in the morning? Yes, yes. yes! You must remove the products which you applied at night. Not only last night's products but your skins oil, bacteria and house dust particles. It's amazing how dirty your skin gets while you sleep. A single cleanse in the shower will do a great job (not directly underneath the shower-head). Remember to take your soft cloth in with you for a thorough removal.
9.
Not all cleansers are designed or efficient enough for removing your eye make-up. From the Katherine Daniels range you'll find: 
10.
Let's talk about your eyebrows. As part of your cleansing routine, mindfully include your brows. Eyebrow make-up is long wearing, it's designed to stay all day. If you have semi-permanent brows, you must take care of the skin beneath the hair. This will keep the pigment in your skin rich and bold and prolong the life of your brow treatment.
Recommended products