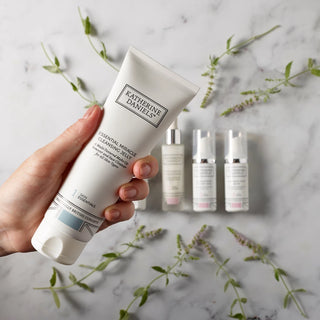 Why we've made this product for you...
Cleansing your skin is a crucial step in your skincare regime. It's pointless moisturising over daily grime and makeup residue. We want you to have a luxurious cleansing ritual, which is quick and simple.

We know that it's nice to wash a cleanser off your skin, one that leaves no skin tightness - just hydrated, velvety feeling skin.

Long-wear & ultra-wear make-up is made to stay in place all day. We know that it's difficult to remove - we'll change this for you.

Sometimes you need to travel light and this single product multi-tasker can take the role of 2 or 3 individual products.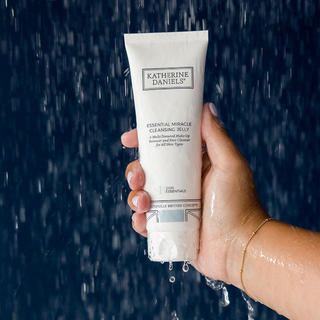 Why you'll love this product...
It's great skin made easy. High performance cleansing for all skin types, even the most sensitive. It's hyper effective on stay in place, long wear foundation.

A multi-tasker that packs a powerful punch. A great product for weekends away, holidays and your gym bag (but still perfect for everyday use at home). It can replace your eye make-up remover, cleansing milk & toner and even your after-sun mask.

If you're travelling light - a little goes a long way. This 100ml tube fits the current hand luggage criteria.
What makes Essential Miracle Cleansing Jelly so good?
Let's look at how it works…
Rice Bran Oil.  
It effectively lifts off make-up, dirt and impurities. It's not heavy or greasy.
Sucrose Laurate. 
A gentle cleansing ingredient from sugars. Perfect for cleansing all skin types, even the most sensitive.
Lemon Balm & Peppermint Oils.
For skin conditioning and anti-inflammatory benefits.
Capric Triglyceride.
A combination of coconut oil and glycerine. Keeps your skin soft, supple and well hydrated.
Tocopherol & Sunflower Oil. 
A powerful duo of Vitamin E, to ward off free radicals (the bad guys)!
Plant Extracts.
Excellent skin firming without drying and causing skin discomfort.
There's no added fragrance, parabens, mineral oils, sodium laurel sulphate or phthalates. Nothing suspicious to see here! It's also not tested on animals.

The packaging is worth a mention
Our tube is airless! There's no air in it and no air can get into it while you're using it. This means we can use less preservatives when you use your product.

Pop your finger (or thumb) over the hole on the back of the tube as directed on the pack. Your tube will look perfect for the duration of its life. You'll get every drop of product out without having to cut the tube open. Pure genius! Plus, the tube is recyclable.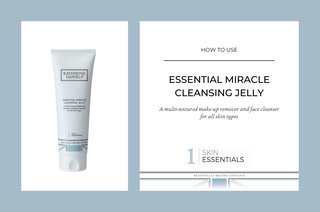 How to use your Essential Miracle Cleansing Jelly
For eye make-up, use a tiny amount directly to the lashes, lids and brows. Massage in circular movements and remove with damp cotton pads.

For your face, apply a small amount to dry skin and spread evenly. Leave for a few seconds before massaging into your skin as it transforms to the oil phase. Emulsify with a few drops of water, continue to massage as the oil turns to a milk. Remove with a damp Katherine Daniels Micro Cloth. Repeat for your second cleanse, include your neck to complete your skin cleansing ritual.
Watch our application tutorial for more help.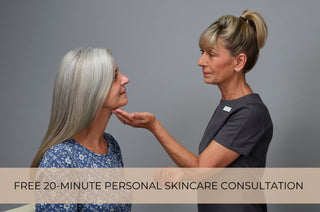 Not sure if this product is right for you?
Why not book a complimentary appointment at our Virtual Skin Bar and get advice from one of our Skincare Experts. Who will prescribe the correct products, along with an achievable regime to give you the results that
you want. No more guessing, no more half-used products.
All you need is 20 minutes and access to a computer or smart phone.