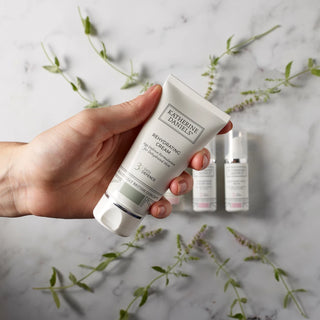 Why we've made this product...
Rehydrating cream delivers a serious hit of hydration. It transforms your dull dehydrated skin - thanks to its moisturising and line lessening complexes.

Using advanced scientific ingredients to restore total skin function. It works from the most superficial to the deepest layers, to bring your dull dehydrated skin back from the brink.
Dehydration is a condition of your skin, it's not your skin type. It happens when your skin barrier is damaged, allowing precious moisture(water) loss. This presents on your skins surface, which is often mistaken for an oily shine. Damage may be caused by harsh, aggressive products or by following a poor skincare regime.
Underlying congestion is often a problem too. Stagnant toxins trapped within your cells, without the fluids to self-flush and clean. This presents as underlying congestion, often developing into spots. Dehydrated skin is often mistaken for oily skin, leading to the use of harsh, stripping products. This damages your skin barrier more and worsens the problem. With skin dehydration, your pores are open. The base of your open pores are grey in colour, this makes your skin look dull and is often mistaken for blackheads.
Your lifestyle effects hydration levels in your skin. Caffeine, alcohol, insufficient water intake, central heating, air conditioning and lack of sleep all take their toll.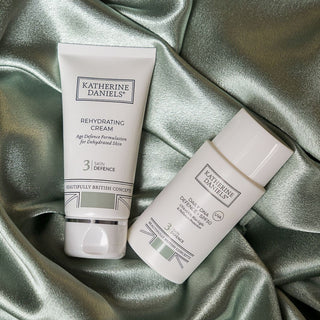 Why you'll love this product...
Rehydrating Cream leaves a comfortable matte finish on your dehydrated skin. A comforting texture without oiliness.

Thanks to our hyper effective, age defence formulation. We're able to repair your skins barrier to maintain hydration levels, and deliver a serious hit of hydration to replace your skins lost moisture. It works on underlying congestion, to flush out toxins from your stagnant dehydrated cells. Thanks to our rapid hydration and oxygenation delivery system.


Now you have good skin function, we activate your own collagen, elastin and hyaluronic acid. Your skin makes its own supply of these youth and hydrating proteins. Yes, we give your skin a helping hand and stimulate the cells which produce these proteins. The whole time preventing the deterioration of proteins you already have available.

Your skin will become smooth, translucent, plump and radiant. Dull skin and underlying congestion flush away, your skin will now be able to function youthfully.
What makes Rehydrating Cream so good?
The perfect texture with carefully chosen ingredients that will give you visible results. Let's look at how it works…
Intelligent Aqua Bio Complex
Will fortify your skins barrier, the first step in the repair process. It prevents unnecessary moisture loss and it supports the distribution of moisture into your skin.
Working in a supporting role is our Turbo Moisturising Complex.
To give a rapid and instant hit of hydration to your skin. Our tests on this ingredient shows +39% in 30 minutes. It increases your elastin production to bring back firmness and density. It prevents the breakdown of your existing collagen and elastin.
Rhodella Viollacea Complex
Is from seaweed, its rich in skin perfecting minerals. A fast-acting, long term hydrator. It oxygenates your skin to bring back the radiance.
Flax Seed Extract
To prevent the deterioration of your own youth proteins. While stimulating the cells to produce new supplies.
There's no parabens, mineral oils, sodium laurel sulphate or phthalates. Nothing suspicious to see here! It's also not tested on animals.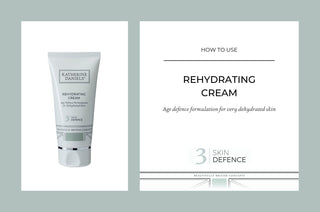 How to use your Rehydrating Cream
Massage into your face and neck in upward movements, avoiding your eye area.

For ultimate results, use after your Katherine Daniels Step 2 – Skin Boost.
Watch our application tutorial for more help.