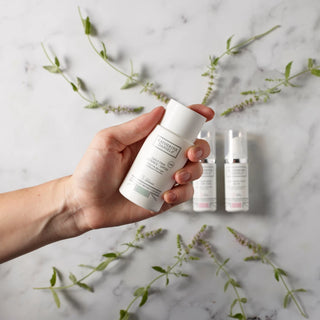 Why we've made this product for you...
It's so much more than a daily SPF.

It's broad-spectrum protection for your skin (UVA & UVB). It's blue light neutralising and pollution protection - plus it doubles as an exceptional make-up primer.

You know (and we know) that a daily SPF is a must have... But developing a great product with the perfect texture took much consideration. Why?

Because SPF's are difficult to wear especially under make-up. We've seen our makeup slip off our face by mid-morning too, thanks to a bullet-proof layer of SPF beneath it. We had to tackle this and other pain points, associated with daily SPF's. The end results, a photo-stable (won't degrade in the sun) SPF30 packed full of active ingredients. To help your skin and your skin cells stay well protected during exposure to the environment.
Blue light is emitted from computers and smart technology, phones and TVs, (blue light ages your skin). This product protects against the formation of pigmentation marks and lines.

Pollution damages your skin too. This product is an invisible coat of armour keeping the good 'stuff' in and the 'bad' stuff out.
We've included active DNA Defence and Repair Enzymes, this ingredient complex defends the DNA of your cells against free radical attacks. Your cells are under threat when you're exposed to UVA & UVB, blue light and pollution. After exposure the DNA enzymes kick start your natural repair mechanisms. Your DNA repair increases by 40% in 30 minutes - around 100x faster than your skin could start to repair itself!

Don't put your SPF away for the winter. An SPF is your skins best protection against cold weather. No matter if you're poolside, deskside or outside - it's a must have.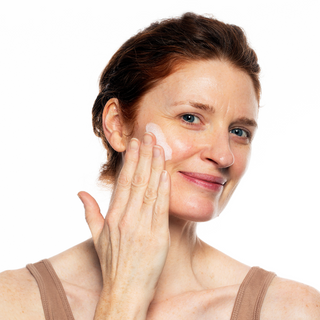 Why you'll love this product...
For its great protection in a potent anti-oxidant formulation. To protect, care and repair your skin.

It's a weightless coat of armour, totally undetectable. The perfect last step in your morning routine. There's no oily residue, no white chalky residue - you won't even know you're wearing it.
We haven't added fragrance because we hate it when fragrance in SPF stings our eyes. Its non-comedogenic (non-pore clogging) and it's perfect for even the most sensitive skin.

It doubles as an exceptional make-up primer, keeping your make-up looking pristine all day. Our 50ml product slips neatly into your pocket or bag- you'll never get caught out by the sun again.
What makes Daily DNA Defence SPF30 so good?
The perfect texture with carefully chosen ingredients that will give you visible results. Let's look at how it works…
Active DNA Defence & Repair Enzymes, from Micro Algae & Plankton.
This complex is anti-inflammatory, antioxidant and anti-free radical. Protecting your skin against blue light radiation and pollution. It blocks cell damage, corrects and repairs your DNA after exposure to sunlight, blue light and pollution.
UVA & UVB filters.
Are a combination of physical and chemical broad-spectrum protection.
This gives you the best protection and no white chalky finish.
Chamomile Extract.
Thanks to its calming, soothing and anti-inflammatory action this ingredient gently cares for your skin.
Tocopherol Acetate, Vitamin E.
Another antioxidant to prevent UV damage and slow sun related skin ageing.
There's no added fragrance, parabens, mineral oils, sodium laurel sulphate or phthalates. Nothing suspicious to see here! It's also not tested on animals.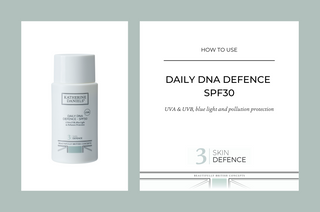 How to use your Daily DNA Defence SPF30
Apply liberally as the final step in your Katherine Daniels morning routine. Massage into your face, neck and décolleté, avoiding the eye area. For maintained UV protection reapply every two hours.
Watch our application tutorial for more help.