HOW TO USE ON YOUR FACE
The Deep Cleansing & Exfoliating Discs can be used alongside any of our Essential Cleansing Collection. To enhance the effectiveness of your cleansing product. Or give the feeling of a scrub, when used with your Essential Exfoliating Gel.  

At the oil phase, place a disc in each hand and massage the skin, concentrating on congested and problem areas.
How to use on your body
The Deep Cleansing & Exfoliating Discs are ideal for use on your body too. Excellent for the backs of your arms, elbows, knees, and buttocks. In fact, anywhere that you want soft, peachy skin.  Each disc has a sucker pad on the back for you to stick them to tiled walls and use them in your shower.
Remember to moisturise these areas once you've towel dried, we recommend our Nourishing Hydrating Balm.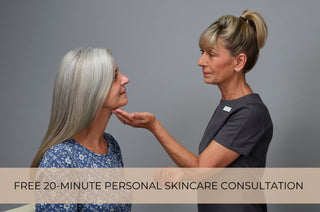 Not sure if this product is right for you?
Why not book a complimentary appointment at our Virtual Skin Bar and get advice from one of our Skincare Experts. Who will prescribe the correct products, along with an achievable regime to give you the results that
you want. No more guessing, no more half-used products.
All you need is 20 minutes and access to a computer or smart phone.