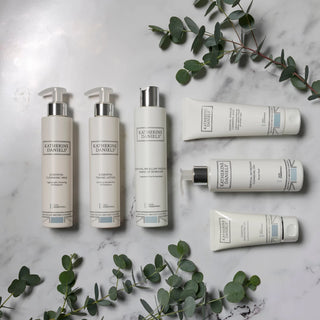 Why we've made this product for you...
Cleansing your skin is a crucial step in your skincare regime. It's pointless moisturising over dirt and pollution from the day, perspiration and skin oil, even make-up residue.

The choice of skin cleansing for a professional facialist is a double cleanse and tone approach. This is the ultimate way to remove makeup and clean your skin. But for most of us time is of the essence, the traditional cleanse and tone is often replaced with a facial wash. But double cleansing and toning your skin doesn't have to be a long, laborious task.

Our lightweight dual texture cleansing milk is a modern take on a traditional product. Use in conjunction with our Micro Cloths and you'll take your skin cleansing routine to a new level in no more time than it would take to properly use a wash off cleanser. If you want your skin to feel hydrated and revitalised you'll love the Essential Cleansing Milk.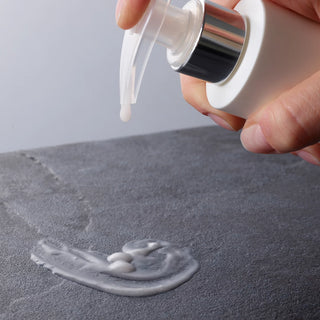 Why you'll love this product...
A traditional skincare concept with a modern twist. Your best skin made easy. All skin types benefit from our high-performance Essential Cleansing Milk.

The transforming texture of light milk to fluid, spreads easily across your skin. Thanks to the fluid texture the product enters every skin pore, every crevice. It lifts out make-up, pollution and dirt. You will achieve a deep, detoxifying skin cleanse. It's gentle on all skins, even the most sensitive.

This is why we use this cleanser in our professional facial treatments. Use it with our Micro Cloths and it's as quick as any other cleansing system.
What makes Essential Cleansing Milk so good?
Let's look at how it works…
Red Seaweed & Blue Micro Algae Extract.
A powerhouse duo. They work in synergy to give you a complete anti-ageing ingredient. They boost collagen and elastin production and strengthen your skin's defences.
Glycerine.
A hydrating ingredient. It helps to trap moisture within your skin. It keeps it supple and feeling comfortable.
There's no parabens, mineral oils, sodium laurel sulphate or phthalates. Nothing suspicious to see here! It's also not tested on animals.


One more thing...
We recommend that you also use the Essential Toning Lotion after using the Essential Cleansing Milk. This traditional skin cleansing routine will ensure your skin is perfectly cleansed and returned to a neutral skin pH, ready to receive key ingredients.

Cleansing your skin at night should be part of your evening ritual. You should cleanse your skin in the morning too. Removing last night's moisturiser is a must before you re-apply and nurture your skin for the day ahead. In the morning our Essential Micellar Face & Eye Makeup Remover, Essential Refreshing Cleansing Gel or Essential Miracle Cleansing Jelly, is perfect and offers you an in-shower cleansing experience. It creates a great morning skincare ritual too.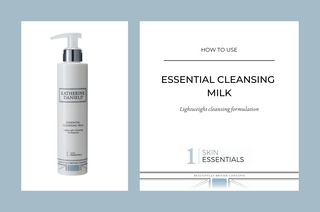 How to use your Essential Cleansing Milk
Apply 2 -3 pumps to your face, neck and décoletté and gently massage in circular movements avoiding your eye area.
Your first cleanse will lift away make-up and impurities from your skin. Repeat for a second time, your second cleanse will clean your skin. Follow with your Katherine Daniels Toning Lotion to complete your skin cleansing ritual.
Watch our application tutorial for more help.