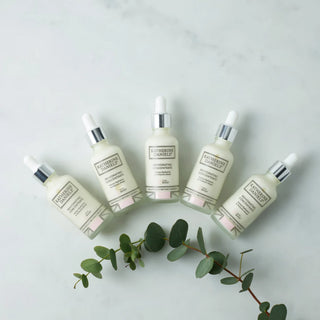 Why we've made this product for you...
Your dehydrated skin lacks moisture, it presents on your skins surface and can often be mistaken for an oily shine.

Dehydration is a condition of your skin, it's not your skin type. It happens when your skin barrier is damaged, allowing precious moisture (water) loss. Damage may be caused by harsh, aggressive products or by following a poor skincare regime.

Underlying congestion is often a problem too. Stagnant toxins are trapped within your cells, without the fluids to self-flush and clean. This presents as underlying congestion, often developing into spots. Dehydrated skin is often mistaken for oily skin, leading to the use of harsh, stripping products. This damages your skin barrier more and makes the problem worse.


With skin dehydration, your pores are open. The base of your open pores are grey in colour, this makes your skin look dull and can often be mistaken for blackheads.

Your lifestyle also effects hydration levels in your skin. Caffeine, alcohol, insufficient water intake, central heating, air conditioning and lack of sleep all take their toll.

Using advanced scientific ingredients, our Rehydrating Concentrate transforms your skin, bringing your dull, dehydrated skin back from the brink.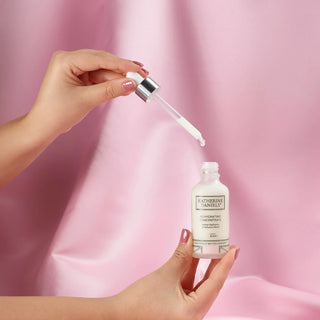 Why you'll love this product...
For intense hydration and a pollution shield for dehydrated skin. It has a unique way of working.

A weightless complex - it sinks into your parched skin without stickiness. To form an invisible protective layer, like a fine gauze placed over your skins surface. It will oxygenate and firm your skin, and give you a serious hit of hydration. It repairs your skin barrier and prevent precious moisture loss. It forms the shield to protect your skin from pollution particles.

Fortified with our moisturising complex, much like your skin's own Amino Acid Complex. Your skin recognises it and knows what to do with it, to give an immediate hit of moisture. And then drip feed your skin for the next 8-12 hours, for an immediate and long-term skin transformation.
What makes Rehydrating Concentrate so good?
It's important to repair your damaged skin barrier, this will stop the moisture from escaping from your skin. Once repaired and hydrated your skin will flush out stagnant toxins from congested cells - it starts to self-correct. Your dull dehydrated skin will become plump, translucent, clear and radiant. Open pores become less visible and lines of dehydration disappear.

Let's look at how it works…
Hyaluronic Acid, Alginate & Pullulan Extract
Form the protective layer, bringing an immediate hit of moisture and oxygenation. Preventing moisture from escaping. Absorbing heavy metal and toxic gases from pollution.
the moisturising complex comes from Glycerine, Serine & Trehalose
These work in synergy to drip feed your skin with hydration for up to 12 hours.
Bisabolol comes from Chamomile
It soothes and calms your skin after environmental exposure.
There's no parabens, mineral oils, sodium laurel sulphate or phthalates. Nothing suspicious to see here! It's also not tested on animals.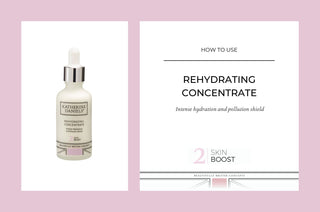 How to use your Rehydrating Concentrate
Apply half a pipette of concentrate to your face and neck, including your eye contour and lips.
Gently massage with your fingertips in upward movements until fully absorbed. For ultimate results follow with your Katherine Daniels Step 3 – Skin Defence.
Watch our application tutorial for more help.