Why we've made this product for you...
Selfcare is vital for wellbeing. No doubt your busy life limits the time which you can claim as your own. Take 5 or 10 minutes to relax, read a book, or just reflect. Using your Linen & Home Mist during this time will add another dimension to your window of downtime.

If this is impossible for you, the introduction of your Linen & Home Mist will be the perfect addition to your night time rituals. Spritz your linen before bedtime. Our fragrance blend will help recall and relive your happiest memories. It will help you to relax before nodding off to sleep. Recall, Relive and Relax.
We use essential oils to fragrance our mist. The fragrance we have created is delicate and sophisticated. It is ideal to use on bedding and soft furnishings to induce relaxation and to stimulate happy memories.
As you relax, enjoy the fragrance. Be assured it won't linger for hours or go stale in the air. It's not overpowering or headache inducing. It's subtle, charismatic and sophisticated.

For the ultimate experience of tranquility visit one of our salons or spas and enjoy our newest treatment 'An Hour of Tranquil Relaxation' where time stands still, where you relax. Where we envelop your mind and body for an hour of 'me time'. Click here to find out more.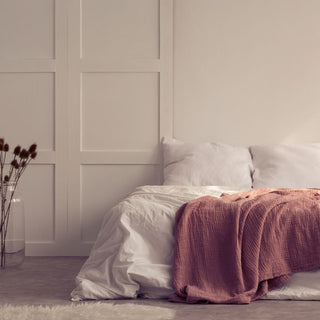 Why you'll love this product...
Your sense of smell is closely linked with memory. It evokes emotion. Fragrance is the ultimate way to journey to your favourite destination, place or time. Your happiest memories renewed by a single scent.
Enjoy moments of tranquility every day with our essential oil Linen & Home Mist. Recall, Relive and Relax.
How to use your Linen & Home Mist
Mist your space 1-5 times as desired. Use at arm's length over linen and fabric. Let it dry before making contact.
One more thing...
The packaging is worth a mention. Our bottle is recyclable and is made of 20% recycled glass. The pump that we use is an eco-pump, it's fully recyclable, unlike most pumps.
Warnings
Avoid contact with your eyes. Patch test fabric before use to assess staining potential. Avoid use in case of known allergy to (ingredients listed above). Store in a cool place, out of direct sunlight. Keep out of the reach of children. For use on linen and your home. Do not spray directly onto your skin.