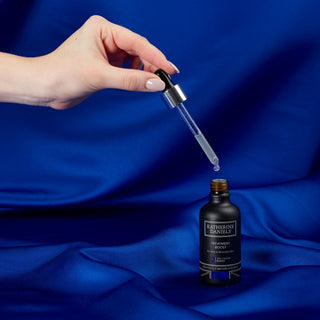 Why we've made this product for you...
Oily skin is a genetic skin type. Don't mistake it for a 'manmade' problem skin (a problem made by treating it as oily) with harsh, skin stripping products used on it. In this case please take some advice from one of our Skincare Experts at our Virtual Skin Bar.

An oily skin over produces oil, it has a high alkaline pH. This allows a higher-than-normal amount of bacteria to breed on your skin both at surface level and at cellular level. Excess oil presents as a thick waxy secretion on your skin. Hair follicles become blocked due to trapped sebaceous filament. Once blocked it may become a blackhead, this presents as a plug within the follicle which may lead to swelling and inflammation of the area and a spot forms. The bacteria will be fought by your white blood cells, these 'die 'once their work is done and this presents as a whitehead.

On your skin's surface bacteria communication increases. It's a 'party on your skin' for the multiplication of more spot forming bacteria.

Our Acne & Blemished Skin Treatment Boost packs a powerful punch. Up your skincare game and achieve outstanding results with regular at home use.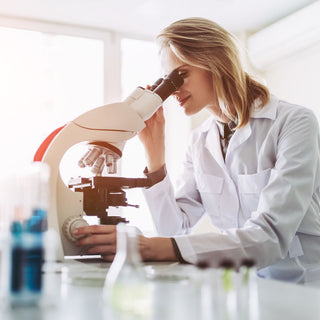 How we've made this product for you...
The exceptional regeneration potential of plant stem cells is at the heart of the Katherine Daniels Treatment Boost Collection.

Plant stem cells contain and produce a huge number of active ingredients, such as amino acids, lipids, carbohydrates, vitamins, minerals, antioxidants and growth factors. Using our own unique stem cell technology our team of skin scientists have harnessed the power of Plasma Rich Cell Factors (PRCF).
To develop a new generation of uber-effective, sustainable ingredients to create these innovative, targeted treatments. Delivering remarkable real results.
What makes the Treatment Boost for Acne & Blemished Skin so good?
When treating acne and blemished prone skin we need to treat it gently - we don't use harsh stripping ingredients. We treat your skin at surface and cellular level and get to the heart of your skin problem.

We've packed this product with high performance ingredients:
Quori Noni (PRCF).
Stem cells from Morinda Citrifolia protects and balances your skin's microbiome for skin health. It interrupts the communication channels of bacteria reducing their ability to multiply. It has an analgesic, anti-inflammatory and bacteriostatic effect.*
Tumeria Zen (PRCF). 
Stem cells from Tumeric. To protect your skin against stress related ageing and inflammation. A powerful antioxidant. It protects your collagen and elastin fibres and reduces deep lines.*
Mimosa Bark Extract. 
Is antimicrobial, antiseptic, anti-inflammatory and anti-fungal. With powerful skin healing properties.
Arctium Majus Root Extract. 
Another anti-inflammatory, antibacterial ingredient to calm your skin and reduce the growth of bacteria.
*Quori Noni – placebo test on 20 volunteers at GAIKER Centro Tecnologico over 30 days.
*Tumeria Zen – placebo test on 16 volunteers at Dermscan over 28 days.
Biotin.
Vitamin B7. Well known for its anti-fungal properties. It is also hydrating. It's skin conditioning to help your skin function in a healthy environment.
Zinc Sulphate.
It helps the spot healing process thanks to its anti-inflammatory, anti-microbial abilities. It then helps to heal scar tissue.
Hyaluronic Acid.
A natural moisturising factor to bring dehydrated skin back from the brink.
There's no added fragrance, no parabens, mineral oils, sodium laurel sulphate or phthalates. Nothing suspicious to see here! It's also not tested on animals.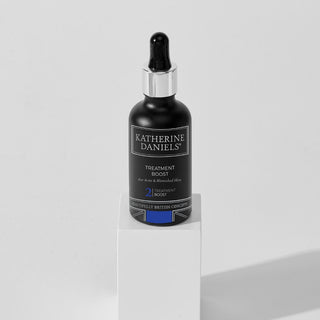 Why you'll love this product...
Our salon strength Treatment Boost is a dynamic blend of bacteriostatic plant stem cells to protect your skin's delicate microbiome and to prevent bacteria from multiplying.
Over time our potent cocktail will deliver outstanding results.
How to use your Treatment Boost...
Use AM & PM on clean skin as part of your Katherine Daniels regime. Apply half a pipette instead of your Step 2 – Skin Boost.

Follow with your favourite Step 3 – Skin Defence products.
Highly Sustainable Technology
For each kg of product we save up to 10,000kg of water, compared to traditional methods of ingredient production. Up to 99.98% of water savings compared to traditional crops.
With our laboratory production method we produce up to 1,000kg of product in 100m2. We use up to 99% less arable soil compared to traditional methods.
Since we don't plant full crops we save energy, fuel and avoid transportation. Our carbon footprint is very low compared to traditional methods.
Free from pesticides, herbicides, heavy metals, VOC & BSE.
Environmentally friendly.
Contains no GMO, no classified CMR and no listed allergens.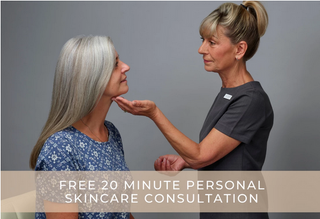 Not sure if this product is right for you?
Why not book a complimentary appointment at our Virtual Skin Bar and get advice from one of our Skincare Experts. Who will prescribe the correct products, along with an achievable regime to give you the results that
you want. No more guessing, no more half-used products.
All you need is 20 minutes and access to a computer or smart phone.