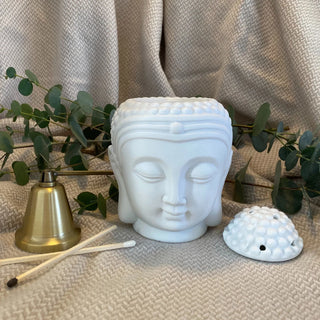 Shop our Wax Melts fragrance...
We have 3 wax melt fragrances to choose from:
Enchanting, Uplifting, Mysterious
The enchanting warm woody notes of exotic oud. Laced with the softest, sweet floral notes of sandalwood. This fragrance is mysterious and feminine.
Intriguing, Seductive, Charming
The intriguing notes of bergamot, citrus spice. Entwinned with the seductive smoky notes of oud. This fragrance is charming and handsome. 

Alluring, Sophisticated, Glamorous
The earthy tones of black truffle are offset by the vibrant, jammy notes of dark berries. Sandalwood entangles velvet blossom, bringing a sophisticated finale. This fragrance is dramatic and elegant.  
Our wax melts are vegan society approved. We use a complex combination of rape seed, flax seed, castor oil, coconut & olive oil. We don't use paraffin, palm oil or beeswax.